/ Recipes / Garlic shrimps with St-Feuillien
Garlic shrimps with St-Feuillien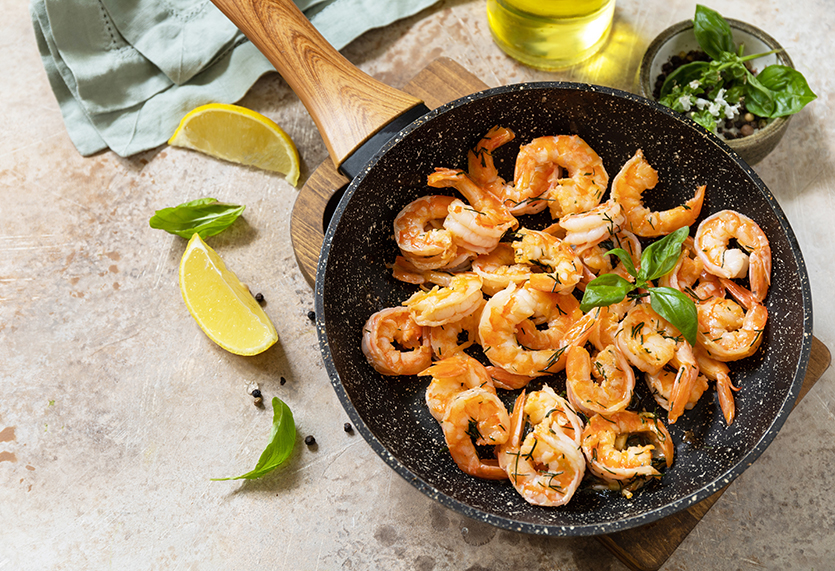 Preparation
In a large pan, combine butter, garlic, sweet onions, chili paste, hot sauce, and paprika. Stir until onions are translucent (about 1 to 1 ½ minutes) over medium heat, uncovered. Once simmering, add salt and pepper to preference.
Add the beer, bring to a simmer uncovered, and then add the shrimp. Cook over medium heat, stirring often, until shrimp turn pink (about 3 to 4 minutes).
Serve garnished with green onions.
Serve with fresh bread to dip in the sauce and enjoy with a St-Feuillien beer of your choice.
Thanks to Whisky Guy +
Ingredients
20 to 25 medium-sized tiger shrimp (uncooked and cleaned)
4 tablespoons of butter
Salt and pepper to preference
1 teaspoon of paprika
4 medium-sized garlic cloves, diced
1 green onion, diced
¼ cup sweet onions - diced
1 tbsp. Portuguese sweet pepper paste or red pepper paste of your choice
Portuguese Piri Piri hot sauce to preference or hot sauce of your choice
½ glass of St-Feuillien beer of your choice