/ Recipes / Pork tenderloin with St-Feuillien Brune
Pork tenderloin with St-Feuillien Brune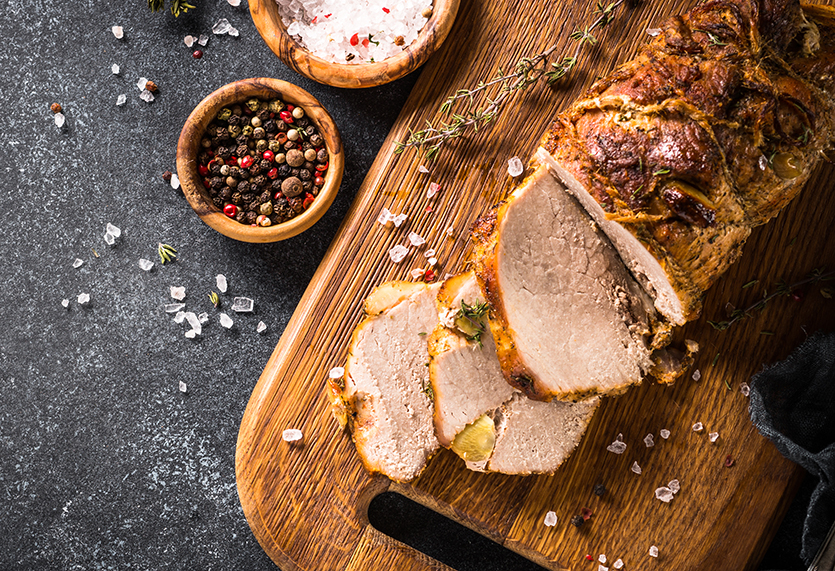 Preparation
One day before cooking, soak the raisins in the beer.
On the day of cooking, cut the pork fillets into slices a bit more than a centimeter thick.
Peel and chop the onions
Melt the butter in a large pan.
Brown the slices of pork tenderloin, season with salt and pepper, then set them aside on a soup plate so they can rest in their juices.
In the pan, add the sliced onions and stir to avoid burning.
Moisten with the beer-raisin mixture, then add the bouillon cube and the bouquet garni.
Add the Sirop de Liège and let reduce the mixture until the flavors combine.
Collect the juice from the slices of meat, add it to the sauce, then reheat the slices in the sauce.
Serve on a hot plate with some French fries.
This preparation, which is reminiscent of the "Boulet à la Liégeois," brings out the sweet and savory character of the St-Feuillien Brune.
Ingredients
800 g pork tenderloin
200 g white and brown raisins
2 large onions
1 bouquet garni (thyme and bay leaf)
1 cube of chicken stock
2 tablespoons of real Sirop de Liège
100 g of butter
Ground black pepper and salt.
33cl St-Feuillien Brune